Lewis Hamilton said he was "happy to be alive" after recovering from the corona virus to finish Formula 1 season third.
He missed the final race in Bahrain a week ago after signing world champion Kovit-19, but recovered just in time to start racing in Abu Dhabi.
After the race Hamilton said: "I was devastated, I was not well.
"But I'm glad I'm alive, I'm grateful. I live to fight another day, and still be able to finish on one platform."
The 35-year-old Mercedes driver tested positive for the Kovit-19 on the day he won the Bahrain Grand Prix last month, was forced to avoid Zakir GP on the same track a week later, and spent 10 days in solitary confinement before the negative test, releasing him to Abu Dhabi on Wednesday.
"Covid is no joke," he said. "I never thought of it. At some point I knew it would be hard to get it because people out there are losing their lives. So I know it's serious.
"It is very strange for me to see world leaders laughing like that.
"Coming back here this weekend, I knew I wouldn't be physically in the rest of the season, but I did it. Where there is an option, there is a way."
Although he acknowledged that he was not feeling well, Hamilton said he was determined to return to Abu Dhabi until a negative test was performed in a timely manner.
"It would have been a long gap between Bahrain [race] One and race one [next year], "Hamilton said," So it's important for me to come back, get back on track and finish a strong year with the team. "
Red Bull's Max Verstappen won the final of the season, while Hamilton's teammate Voltaire Bodas is in second place.
'One of the Hardest Years'
Hamilton became the most successful driver in Formula 1 history this year, beating Michael Schumacher's all-time winning record and equaling Germany's record of seven titles.
But he said it was a difficult year as a result of restrictions imposed by the corona virus.
This season was initially suspended in March and set the F1 protocol system, setting aside as much as possible for people to restart.
Drivers need to isolate themselves as much as possible to reduce the risk of catching the virus and tracking their seasons.
Hamilton said: "This year has been one of difficult, not difficult, because we are all isolated.
"We are not around people; there is a lot of loss of life. Life is not normal.
"I am so grateful that we came to the race and these races can take a lot from you, so for me F1 it was a great achievement to have the race back for us.
"Thanks to God for the well-being and health of everyone here, the game was able to get safe throughout the year."
Contract talks are immediate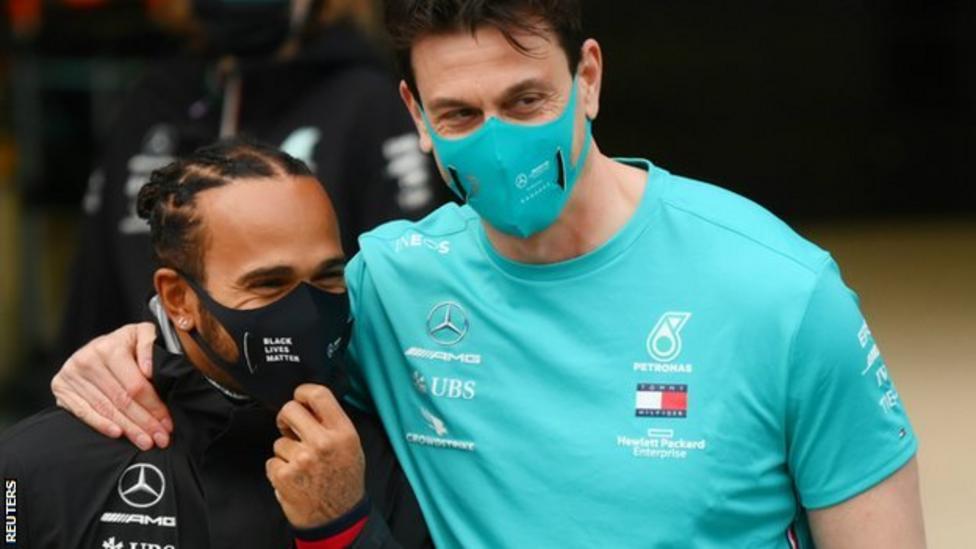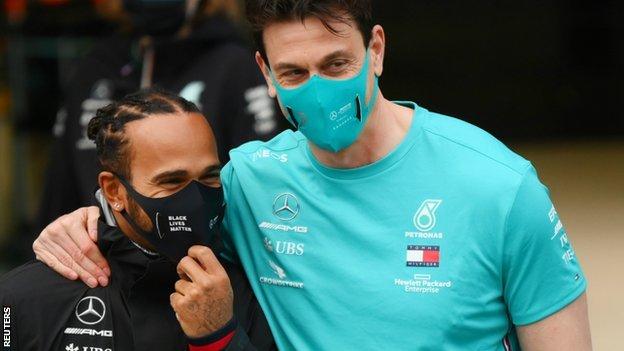 Hamilton has yet to get a contract for next season. He and team boss Toto Wolf agreed to delay the talks until they win the championship, to avoid any distractions or health risks, but Hamilton's health meant they had to be delayed again.
Hamilton said: "Hopefully in the next two weeks. We want to do this before Christmas.
"I plan to be here next year, I'll be here next year. I think there is more to do as a team together, more to achieve, more in the game but out of the game. I hope we can start this week with discussions and control it before Christmas. . "
Wolf said: "It's going to happen and there's no reason why it shouldn't happen, we'll make this conversation.
"The virus is still 10 days, two weeks late, and then we can sit down and almost, perhaps live."