The latest lock on Netflix movies has nothing to do with visual perception: Handfort Parish Council.
Parish council meetings are often dismissed as sleep issues, but the latest zoom call – councilors traded insults and removed each other from the debate – is unlikely to succeed on the internet.
The meeting was awkward at times, and was stopped by a half-hysterical laugh as the tone worsened steadily.
As the clip was shared thousands of times, both Jackie Weaver, one of the Handfort Parish Council and one of the participants in the meeting, became popular on Twitter – some describing it as "the gold of British humor".
Even before the extraordinary meeting began, contradictions were stacked against it running smoothly.
The regular planning and environmental committee meeting was held earlier and Chairman Brian Dolver challenged its legitimacy before launching the zoom call.
He refused to call a meeting – when two councilors called one, he refused to recognize the legitimacy of the meeting.
The meeting began when someone tried to raise an order and another councilor murmured "f *** off" under their breath.
Mr Dolver was hard again, and according to meeting minutes, he "began to disrupt operations".
After promising that "we will not be expelled from the meeting as we were last," Cheshire local council secretary Jackie Weaver was told to "stop talking" – and that he had "no authority" here.
He said: "This meeting is not called by law. Only the leader can remove people from the meeting. You have no authority here Jackie Weaver, no authority."
Mrs. Weaver had none of that, removed him from the zoom call and put him in the virtual waiting room.
But it was not just Mr. Dolver who caused the problem.
Councilor Alet Browton, looking at the events, told his unidentified comrade: "She kicked him out."
He then shouted at Ms. Weaver: "Read the standing orders – read and understand them!"
After another councilor called for civilization, his hopes were met with laughter.
Mr Browton and fellow rebel councilor Barry Burkill were also evacuated to the waiting room – and were told they could return to the meeting if they could walk.
There is no answer.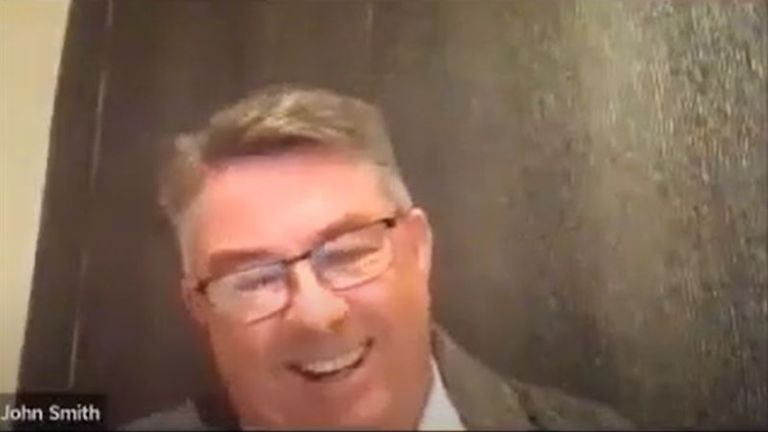 Mr Dolver was never allowed into the meeting, but his presence was still felt, and he was asked why councilors described him as a "clerk" on his zoom label.
Councilor John Smith said: "Whether he declares himself a clerk or not, he is not a parish council clerk."
Ms Weaver added: "The chairman declared himself a 'clerk' and informed everyone in the case.
"There's no way to stop her from calling herself a clerk. Please refer to me as Britney Spears from now on."
At one point a member of the public interrupted the meeting to take a phone call and then a councilor said from the screen "We are trying to hold a group meeting, you idiot".
Mr Smith was not pleased to tell a councilor he had "not attended a meeting for six months," but later added: "It is irrelevant that no meetings have taken place."
Ms. Weaver, perhaps, wondered what she thought of herself: "It would be nothing if not handy at Handford.
"I'm glad this was a zoom meeting," she said, putting her hands on her head.